The #3 Rated Keto Product: Giant Sports International Giant Keto
Giant Sports International Giant Keto - #3
Keto Product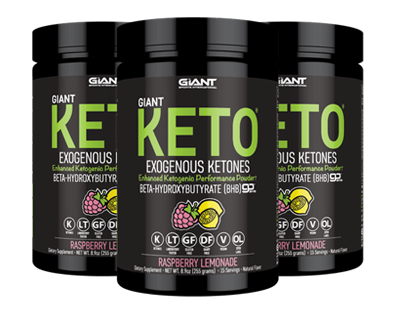 Supplement Facts
Servings Size: 1 Scoop
Servings Per Container: 15
Amount Per Serving
%DV
Vitamin C
600mg
667%
Vitamin D
5000IU
625%
Vitamin K
600mcg
500%
Vitamin B6
5mg
294%
Vitamin B12
100mcg
416%
Calcium
1080mg
83%
Magnesium
69mg
16%
Selenium
100mcg
182%
Potassium
100mg
2%
Sodium
844mg
37%
Beta-Hydroxybutyrate Blend
12g
Calcium Beta-Hydroxybutyrate
6.51g
†
Sodium Beta-Hydroxybutyrate
4.66g
†
Magnesium Beta-Hydroxybutyrate
0.82g
†
L-Carnitine L-Tartrate
500mg
†
† Daily Value (DV) not established
Other Ingredients: Citric Acid, Natural Flavors, Malic Acid, Stevia, Silica, Vegetable Juice Color (Beet).
This is a review of Giant Sports International Giant Keto which aims to put your body in a state of ketosis within an hour of taking the product. It comes in a powder form and provides BHB derived from 3 sources.
EDITOR'S RATING
28 User Reviews
Introduction
Earning itself a spot in our top 5, Giant Sports International Giant Keto helps induce ketosis within your body in less than an hour. With three great flavor options, this drink mix easily dissolves into water which makes it a tasty way to add ketones into your diet. Each serving contains 12 grams of BHB salts to ensure the body will induce and stay in ketosis, even if you eat carbohydrates. This product is also gluten, dairy, and sugar-free, as well as vegan, so it is safe for almost anyone to use!
Ingredients
Beta-Hydroxybutyrate Blend

L-Carnitine L-Tartrate

Other Vitamins and Minerals
Other ingredients:
Stevia Leaf Extract

Vegetable Juice Color (Beet)
The BHB in this supplement uses three of the main sources of BHB salts: calcium, magnesium, and sodium. It is lacking BHB from potassium, which other products also have. Also, this product is lacking Bioperine, which can help the body absorb the salts and ketones.
Dosage
Using a shaker cup, put one level scoop of this powder into the cup and add 12-16 ounces of water. Shake the cup vigorously for 5-10 seconds, and then drink! On your workout days, you should have your drink within an hour before your workout. On rest days, drink the supplement 30-60 minutes before breakfast. If you are planning to have a carbohydrate-heavy meal, you can drink a second serving after the meal.
Possible Side Effects
While you can drink a second serving of supplement after a meal with carbohydrates, you should not exceed more than two drinks per day. It is also extremely dangerous to take this supplement with alcohol. Only those over the age of 18 who are fully healthy with no pre-existing medical conditions and are not pregnant or nursing should use this supplement.
Price
Each container of supplement only holds 15 servings of powder. The manufacturer's suggested retail price per container is $39.99, but it is currently on sale via the company's website for only $29.99. All orders over $100 qualify for free shipping, but beyond that, there are no further discounts. This is a very small container, forcing customers to have to make repeat purchases very often. Also, it is quite expensive for only 2 weeks worth of a BHB supplement.
Guarantee
Giant Sports International does offer a 100% money-back guarantee on its products, opened or unopened. If you are unsatisfied with the product, simply return it for a full refund. It is not stated, however, if there is a time limit for this guarantee, so it is unclear how long you are able to trial this product before needing to make a return.
Giant Sports International Giant Keto Review – Conclusion
There are a few reasons we put Giant Sports International Giant Keto in our top 5. This powder is free of most allergens, including dairy, sugar, and gluten, and it is also a completely vegan product. Also, it contains 3 out of the 4 main sources of BHB salts.
Unfortunately, there are also some concerns we had with this product. The supplement only comes in 15 serving containers, which is quite small and forces reorders quite often if you take this daily. Also, for only having 2 weeks worth of powder, the price is quite high, and there are no discounts available to bring the price down. Lastly, the guarantee does not have a time limit stated, so it is unclear how long you have to take advantage of the money back guarantee. While this is a good product, these are the reasons it did not make our top spot.
Click here to learn about our Top Keto Products.
Visit Giant Sports International Giant Keto Site
John Parker
reviewed on and gave it a rating of
3
.