The #2 Rated Keto Product: Sports Research Keto+ Plus
Sports Research Keto+ Plus - #2
Keto Product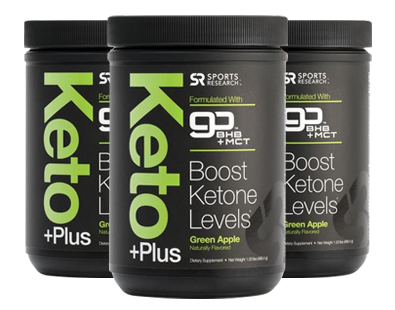 Supplement Facts
Servings Size: 1 Scoop
Servings Per Container: 20
Amount Per Serving
%DV
goBHB
goMCT
Citric Acid
Calcium Silicate
Malic Acid
Silica
Fruit and Vegetable Juice (color)
Natural Flavor
Stevia
Monk Fruit
† Daily Value (DV) not established
Sports Research Keto+ Plus claims to be a quality keto supplement to get your body in a ketogenic state to help you lose weight. It provides BHB derived from four different sources.
EDITOR'S RATING
38 User Reviews
Introduction
Sports Research Keto+ Plus earned itself a well-deserved spot in our Top 5 list. This supplement combines the power of exogenous ketones and medium-chain triglycerides to help provide the best energy support for your body when doing the Keto diet. By combining these two ingredients together, this keto supplement not only raises the level of ketones in your bloodstream but it is also able to maintain that higher level for longer. This long-lasting energy helps to keep you alert without the crash or jitters of other energy supplements or keto pills.
Ingredients
Beta-Hydroxybutyrate (BHB)

Medium-Chain Triglycerides (MCT)

Citric Acid

Calcium Silicate

Malic Acid

Silica

Fruit & Vegetable Juice

Natural Flavor

Stevia

Monk Fruit
This is one of the few keto supplements that contain all four sources of BHB, including from calcium, potassium, magnesium, and sodium. Unfortunately, it does not have Bioperine, which is an important ingredient to help your body absorb the other nutrients.
Dosage
Every day, you should mix one scoop of powder into 8-10 ounces of water, mix well, and drink. You should not exceed two servings of this supplement per day. It is not stated whether this supplement should be taken with a meal.
Possible Side Effects
This powder says that all customers should consult a physician before beginning this supplement, especially those who are pregnant, nursing, or have pre-existing medical conditions. You should not exceed two doses per day.
Price
Each container holds 20 scoops of powder and costs $50, which leaves your per dose price at $2.50. This is higher than other BHB products we have researched. Additionally, there are no available discounts offered for this product, keep the price rather high.
Guarantee
Sports Research does offer a 90-day money back guarantee, but they have many stipulations. They do accept returns not only from their own website but also from select third-party sellers, which are listed on their website. However, you have to follow their steps exactly, starting with filling out the return request form online. All returns must be accompanied by an original receipt and a Return Authorization number. Also, this guarantee is limited to only first time buyers and one of each type of item.
Sports Research Keto+ Plus Review – Conclusion
Keeping in our top 5, Sports Research Keto+ Plus has some positive qualities similar to other Shark Tank keto pills. It is one of the few BHB supplements to contain this nutrient from four known sources. You can also take this supplement with or without a meal. Another great quality is that the manufacturer accepts returns not just from their website, but from select third-party sellers as well.
There are a few reasons, however, that kept this keto supplement out of our top spot. There is no Bioperine in this formula, making it harder for the body to absorb the ketones into the bloodstream. Additionally, there are no discounts available for this product, keeping the price rather high. Lastly, their guarantee has many stipulations which makes it very difficult to make a return. Overall, this product falls short of being number 1 on our list.
Click here to learn about our Top Keto Products.
Visit Sports Research Keto+ Plus Site
John Parker
reviewed on and gave it a rating of
3
.