The #5 Rated Keto Product: Vaxxen Labs Keto1
Vaxxen Labs Keto1 - #5
Keto Product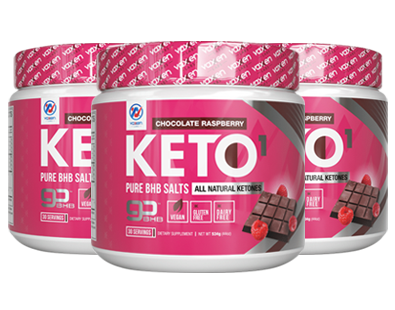 Supplement Facts
Servings Size: 1 Scoop
Servings Per Container: 30
Amount Per Serving
%DV
Sodium
914mg
38%
Calcium
240mg
24%
Magnesium
172mg
43%
Potassium
140mg
4%
Keto1 Performance Catalyst
11.7g
†
Sodium as Beta-Hydroxybutyrate (BHB)
Calcium as Beta-Hydroxybutyrate (BHB)
Magnesium as Beta-Hydroxybutyrate (BHB)
Supercharged Matrix
2.4g
†
L-Taurine
Caffeine Anhydrous (130mg)
L-Tyrosine
Glucuronolactone
† Daily Value (DV) not established
Other Ingredients: Natural Flavor, Citric Acid, Malic Acid, Stevia, Katemfe Fruit Extract, Beetroot Juice Powder, Silicon Dioxide.
This review takes a look at Vaxxen Labs Keto1, a product that works to keep your body in a state of ketosis and boost your energy. It contains BHB salts derived from three sources plus a dose of caffeine.
EDITOR'S RATING
25 User Reviews
Introduction
Vaxxen Labs Keto1 Ketogenic is one of our top 5 ketogenic energy supplements. This powder does not have the amount of sugar that typical energy supplements do and instead replaces the sugar with pure BHB salts for an optimal keto weight loss benefit. Being full of ketones, this supplement will help keep your body in a state of ketosis, even if you decide to eat carbohydrates. With these extra ketones in your body, not only will you feel more energized, but you will also start to see weight loss because of the lower amount of sugar being converted into fat. Read out full keto review to discover more about which keto pills are the best to get you great results.
Ingredients
Sodium
Calcium
Magnesium
Potassium

Sodium Beta-Hydroxybutyrate (BHB)

Calcium Beta-Hydroxybutyrate (BHB)
Magnesium Beta-Hydroxybutyrate (BHB)
L-Taurine
Caffeine Anhydrous (130mg)
L-Tyrosine
Glucuronolactone
The BHB in this supplement comes from sodium, calcium, and magnesium which are three of the most common forms of BHB. Because this product comes in the powder form, there are added ingredients such as stevia and katemfe fruit extract to boost the flavor of the keto supplement.
Dosage
This powder should be mixed into fresh water and drank. Every day, one scoop should be added to 12-16 ounces of cold water to form a drink. This can be taken anytime, with or without food, and therefore does not revolve around your meal schedule.
Possible Side Effects
First off, this product is not 100% natural, and therefore may not be as safe as other supplements. Also, it is only proven safe for people over the age of 18. Women who are pregnant or nursing should also avoid using this keto supplement. Before beginning this supplement, it is recommended that everyone, especially those with pre-existing conditions, check with a healthcare professional first.
Price
Each container of this powder comes with 30 servings, which should last you for an entire month. One container costs $69.99. Through our research, we were not able to find any other types of discounts. That leaves this product costing quite a lot more than other similar ketogenic supplements on the market.
Guarantee
Vaxxen Labs does offer a 30-day money back guarantee, however, their return policy is extremely strict. They only allow the return of unopened, undamaged products within the first 30 days of purchase. This means you are unable to try the powder to see if it will help you lose the weight you want to. Before sending your purchase back, you need to contact their customer service line to receive a Return Merchandise Number that you must send back along with the product in its original packaging and the receipt.
Vaxxen Labs Keto1 Review – Conclusion
There are a few things we liked about Vaxxen Labs Keto1. The powder contains three of the most common forms of BHB. This keto supplement can also be taken any time and does not need to be taken with food.
Unfortunately, we did find some downsides to this keto supplement. The price for a 30 day supply seemed quite high, and there were no discounts available to help bring that price down. Also, there was no true money back guarantee for this product. If you even open this product to look inside, the return policy becomes null and void. While this is still a great product, these are the reasons it fell short of the number 1 spot.
Click here to learn about our Top Keto Products.
John Parker
reviewed on and gave it a rating of
3
.