The #4 Rated Keto Product: Key Nutrients Key Keto
Key Nutrients Key Keto - #4
Keto Product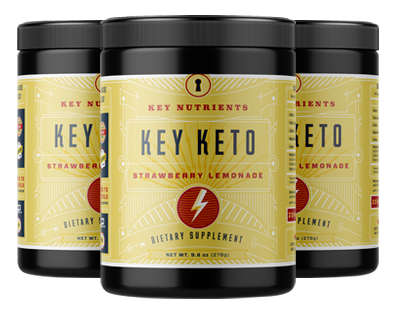 Supplement Facts
Servings Size: 1 Scoop
Servings Per Container: 20
Amount Per Serving
%DV
Calcium
575mg
44%
Magnesium
310mg
74%
Sodium
680mg
30%
Ketogenic Blend
11.1g
†
Calcium Beta-Hydroxybutyrate
Sodium Beta-Hydroxybutyrate
Magnesium Beta-Hydroxybutyrate
† Daily Value (DV) not established
Other Ingredients: Citric Acid, Natural Flavors, Malic Acid, Stevia, Silicon Dioxide, Beetroot (color).
This is a review of Key Nutrients Key Keto, which is a quality product designed to get your body into a state of ketosis faster and without the unwanted side effects being on a keto diet may bring.
EDITOR'S RATING
18 User Reviews
Introduction
Our next top 5 product review is of Key Nutrients Key Keto. This great tasting drink mix provides exogenous ketones that can help your body stay in ketosis, even after a meal with a lot of carbohydrates. The energy that these ketones provide also help you stay more alert throughout the day without jitters, a racing heart, or other symptoms caused by too much caffeine. Also, free of most allergens, this product is not only gluten, dairy, and sugar, but it is also vegan!
Ingredients
Calcium

Magnesium

Sodium

Ketogenic Blend
Other ingredients:
Citric Acid

Natural Flavors

Malic Acid

Stevia

Silicon Dioxide

Beet Root
The ketogenic blend in this product contains three of the main sources of Beta-hydroxybutyrate (BHB): calcium, magnesium, and sodium, however it is missing BHB from potassium. It also does not contain Bioperine, which is commonly used to help your body absorb the BHB and ketones into the bloodstream.
Dosage
This supplement can be taken in full scoop servings or half scoop servings, depending on your needs. If you are just starting this supplement or just want a small energy boost before work, use a half scoop. For energy before a workout or after a heavy carb meal, use a full scoop. Mix whatever amount of powder you choose into 14 ounces of water and shake well. You can take up to 3 servings of this supplement per day.
Possible Side Effects
You should not exceed the suggested serving size of this product. Also, if you are under 18, pregnant or nursing, or have a pre-existing medical condition, you should consult a trusted healthcare professional before using this supplement.
Price
One container of this supplement holds 20 full scoops or 40 half scoops of powder. Each container costs $49.94. Unfortunately, there are no available discounts for this product for things like bulk purchases, which keeps the price rather high.
Guarantee
Key Nutrients offers a 60-day money back guarantee on all of its products. Unfortunately, the website does not offer any information regarding how to take advantage of this guarantee. It is not listed how to start a refund request, what condition the supplement needs to be in when returned, or whether or not they will help with return shipping costs.
Key Nutrients Key Keto Review – Conclusion
There are a few reasons we placed Key Nutrients Key Keto in our top 5 list. The powder does have three of the four most common sources of BHB salts. Also, this supplement can be used in half doses as well if you feel you do not need the added support of a full scoop of powder.
While this is on our top list, there are still some downfalls to this product which is why it did not make our number 1 spot. It does not offer BHB from the last of the 4 common BHB sources, and it also does not contain Bioperine for added absorption. Also, there are no discounts available for this product, which keeps the price higher than other supplements. Lastly, while the manufacturer did list a guarantee, there was not enough information about the refund policy. For these reasons, this supplement did not reach higher on our list.
Click here to learn about our Top Keto Products.
Visit Key Nutrients Key Keto Site
John Parker
reviewed on and gave it a rating of
4
.